Posted by Between Two Forks on May 7th 2017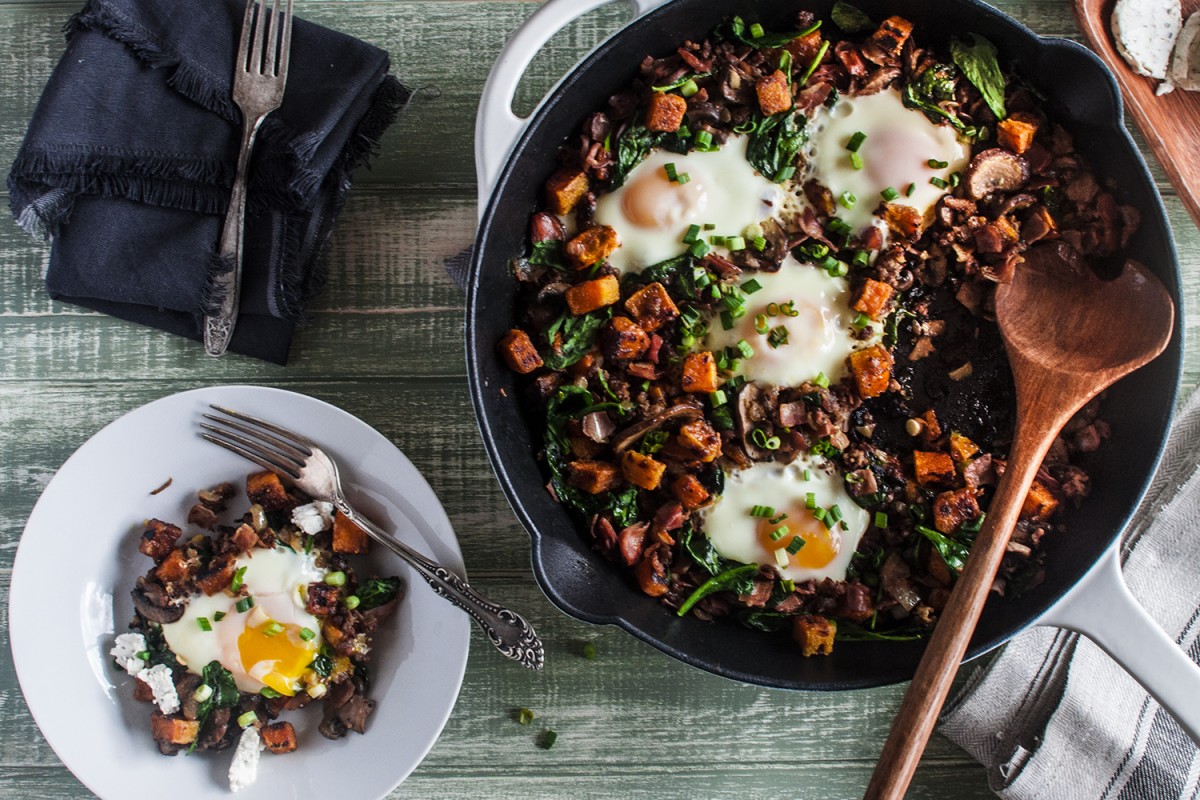 BEEP!!! BEEP!!! BEEP!!! Click…. "Ugh… that wretched alarm clock. I swear I just fell asleep." Those are usually my first thoughts when I wake up in the morning. Followed by "What's for breakfast!?" with the utmost excitement. If you didn't know, you are about to find out that I am very passionate about my breakfast. After all, it IS the most important meal of the day. To me, every meal is the most important meal but breakfast is extra special. I mean, come on…we have breakfast sausage, ham, eggs, hash browns, waffles, pancakes, crepes and BACON! What's not to love? When you go to iHop and you usually have a choice of either sausage or bacon. Forget that! I want it all. Why deprive yourself of all that goodness when you can have my Paleo Mix n' Hash.
What is this Paleo Mix n' Hash? It is all of my favorite breakfast ingredients mixed and mashed together. Creating a delicious one skillet breakfast phenomenon. Before we go too far into the recipe, I have to talk about that damn alarm clock. God! I have hated that thing for so many years. I use to wake up before the alarm goes off just so I can beat that sucker to the punch. But now, I have changed my mind set. Instead of it waking me up for work or school or any dreaded activities, I think of it as a wake up call for breakfast. Now, I can't wait to wake up. Gosh, I sound like fat kid that hides cupcakes in his sock drawer. Alright, I think I have ranted long enough. Let's Paleo Mix n' Hash!
Paleo Mix n' Hash
1½ Cup – Organic Kabocha Squash (Diced)
1½ Cup – Fresh Baby Bella Mushrooms (Sliced)
2-3 Cups – Organic Spinach
1 – Medium Yellow Onion (Diced)
4 Cloves – Garlic (Minced)
1 Stalk – Green Onions (Diced)
3 Links – Mulay's Breakfast Sausage (Remove casing)
10 Thin Slices – Uncured Ham (Diced)
2 Slices – Uncured Thick Cut Bacon (Diced)
5 – Handsome Brook Farms Pasture Raised Eggs
¼ Cup – Otto's Natural Cassava Flour
2-3 Tbsp – Kasandrinos Extra Virgin Olive Oil
2 Tbsp – Gold Nugget Ghee
1 Tsp – Penzey's Sweet Curry Powder
Salt and Pepper To Taste
Optional:
2 Tbsp – Pasturized Garlic and Herb Goat Cheese
Alright, let's talk about ingredients! First off, I have a rant. What's with this baby kale drought? I went to two groceries stores and called three natural foods market and there's not a leaf of baby kale for sale. The recipe is usually made with baby kale, but since I can't find any, we opted for spinach. In all honesty, you can really plug any of your own favorite ingredients to this recipe. I don't guarantee your results, but it is a Paleo Mix n' Hash after all. Next we have the Kabocha Squash, aka the Japanese pumpkin. You can use any root vegetables or squash that you see fit. The hash I will show you also makes a very crispy sweet potato hash brown.
We will start with the Kabocha hash.
Kabocha Hash:
The first thing I like to do in the Paleo Mix n' Hash is make the Kabocha Hash. Sometimes I use butternut squash. Here is a tip. Use a vegetable peeler to skin it. If the skinned squash feels slippery, wrap it with a paper towel and you will have all the grip you need. I like to partially cook the diced squash before I skillet it. I use the microwave and cook it for 3-4 minutes. If you don't like microwaves, you can bake it at 350ºF for 15 minutes. In a large mixing bowl, toss the partially cooked squash with 1 tbsp of Kasandrinos EVOO. Make sure the squash is evenly coated with oil. Now toss the oiled squash with Otto's Cassava flour until they are all covered. In a large skillet, melt the Gold Nugget ghee over medium heat and fry the squash hash until they are thoroughly cooked and golden brown. I use ghee in this process because ghee and curry spice is a match made in heaven. Before removing the hash out of the pan, toss in Penzeys Sweet Curry power and a pinch of salt. The reason you add the curry powder at the end is because you don't want to overcook and burn the curry powder. Let's go to next step for the Paleo Mix n' Hash.
Assembling Paleo Mix n' Hash:
Ok, now that the hash is finished, let's get 'er done. You will want to use an oven safe skillet or a skillet with a lid. Over medium heat, drizzle in 2 tbsp of EVOO in the skillet and start rendering down the bacon. When the bacon starts to become translucent, add in your sausages and ham. Once both the sausage is cooked and the bacon is slightly crispy, add in your onions, garlic and mushrooms. Wait for the moisture from the mushroom to evaporate before adding the hash and spinach. After the spinach has softened, create 5 craters in your skillet and break the eggs into them. Allow the eggs to cook on the skillet for a few minutes before popping it in the oven. I usually bake it at 350°F for 5 minutes or so. I like my egg yolks runny. If you don't have an oven safe skillet, cover it and cook the eggs until desired doneness is achieved. Now that the Paleo Mix n' Hash is all done, it is time to eat! If you allow dairy in your diet, go ahead to crumble some Garlic and Herb Goat Cheese and diced green onions over the top of the hash. Breakfast is ready! There you have it, my Paleo Mix n' Hash. Until Next time, eat up my friends!